Your ads will be inserted here by
Easy AdSense.
Please go to the plugin admin page to
Paste your ad code OR
Suppress this ad slot OR
Suppress Placement Boxes.
The 80's was a decade packed with terrible/amazing decisions. 
Decisions the people of 2013 look back on and ask, "What were we thinking?!"
But let me take this opportunity to ask…Have we really learned? 
Answer…No.
Get ready to get sad.
1. Loud Oversized Sweaters
Golden Girls was the best thing that happened to ANY of us in the 80's (besides Zach Morris of course). Why would we yet again desire to recreate a look sported by Dorothy Zbornak, a sixty-something year old man-woman crossbreed?
2. Justin Bieber Saggy Weirdo Pants (i.e. the red headed step-child of Parachute Pants)
Parachute pants have only looked good on one person, and that person's not even a real person…he's a cartoon stud named Aladdin.
Point is, these pants didn't look good on MC Hammer and their Satan spawn looks even worse on Justin Bieber and anyone else for that matter.
But can we really blame the Biebs who wasn't yet alive in the 80's (feel old yet?) for bringing something back that should have never been brought?  Ordinarily I'd say no, but then I remember the fact that the Biebs spent more money than most of us make (in 2 years) on a leopard print Audi R8, so making awesome things terrible is his forte. 

3.Mullets
Yes…that's Demi Lavato.
This particular trend I thought would never make a comeback since I figured the trailer trash look was behind us.  Alas, Ive been proven wrong. Mullets are officially back with vengeance.
4. Giant Jawbreakers
Oversized Jawbreakers are  giant spherical hard candies we carried around the playground with our sticky child hands. Licking it, playing in the dirt, licking it again, then storing it in that clear plastic necklace container, flaunting it like some sort of disease ridden trophy.
5. Popped Collars
1980s Tool Bags
Your ads will be inserted here by
Easy AdSense.
Please go to the plugin admin page to
Paste your ad code OR
Suppress this ad slot OR
Suppress Placement Boxes.
Modern Tool Bags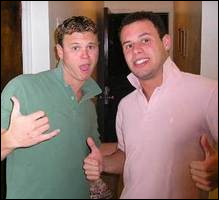 6. Scratch and Sniff Stickers
Remember how they smelled of expired oranges glazed with glue and spritzed with a twinge of sour chocolate?
I will quote Jurassic Park (as I think it makes my point better than any other), "Scientists were so preoccupied with whether or not they could, they didn't stop to think if they should." 
7. Slip n Slides
Slip n' Slides were AMAZING! And I have a scar on my face to prove it!  What a wonderful disaster Slip n' Slides were/are…I just wonder how many broken bones (or faces) have occurred since their release?  I mean their slogan is; "You run, You Slide, Ya hit the ramp and take a dive!"  A dive into what?
Correct answer: A thin layer of yellow plastic, which everyone knows is the best possible surface to dive into face first….at full speed with childlike coordination.
8. Pointy bras
1950's
1980s
Now
A fad that began in the 50's, came back in the 80's, and then rather than being locked up in Mordor where they belonged, (along with the Spielberg Gremlins), were released again in 2013.
Note: Normally Jessica doesn't like supporting bra-clad Rihanna on her website, but she felt the terrifying nature of this photo desexualized it. …. that is the best supporting point I could provide against these mammary cones.
9. Caffeine pills (Jessie Spano style) I'm so excited…I'm so….scared!
The cocaine of 80's sitcoms!  I mean, did Jessie Spano teach us nothing?! If we don't stop ingesting this unreasonable amount of caffeine fairly soon we're just gonna end up tweekin out in our bedrooms with no one to comfort us but a bleach blonde surf star named Zach Morris..…Wait….Zach Morris?…
I'll be right back, gotta go buy some caffeine pills.
10. Synthesizers
They make a sound one can only describe as the love child of a Kazoo and a Piano. So please, everyone calm down, and  just STOP using this instrument.
If we rallied together to stop what's happening (again) there may be hope for our children.
Unfortunately, with the Justin Biebers and Demi Lavatos of the world makin our rules, it seems we may all be doomed to relive one of the darkest (most neon ridden) periods of human history.
Sincerely,
Ash Myers
Twitter & Instagram: The_AshMyers
Facebook: Ash Myers